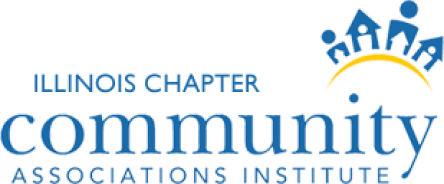 Condo/HOA Q&A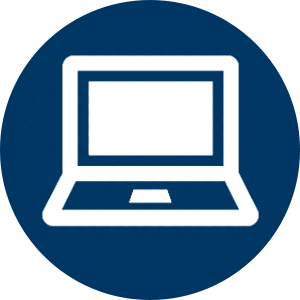 Vaccine & Mask Mandates in Community Associations Q&A
Attend this live virtual Q&A session about Vaccine and Mask Mandates in your Community Associations. You will hear up to date information as of October 11th 2021.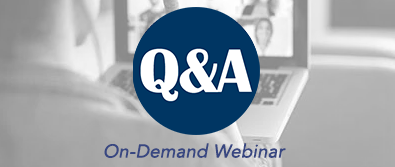 Condo HOA/Q&A: Risky Business--How Will New Insurance Regulations Affect You After the Surfside Collapse?
How should an HOA identify and truly manage risk?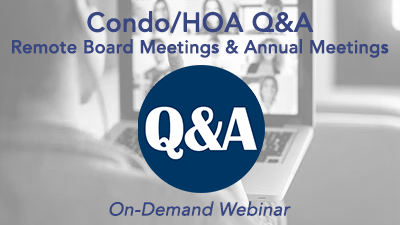 Condo HOA/Q&A: Board Meetings & Annual Meetings During Covid-19
A discussion of common questions/issues around association meetings during the pandemic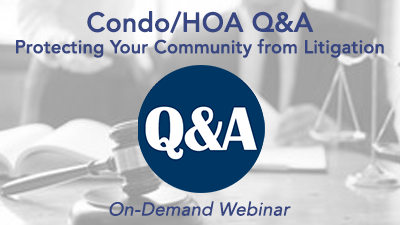 Condo/HOA Q&A: Protecting Your Community from Litigation
Depending on the severity of the claims, a lawsuit can range from frustrating to catastrophic for your association. This session will focus on ways to protect your community from litigation.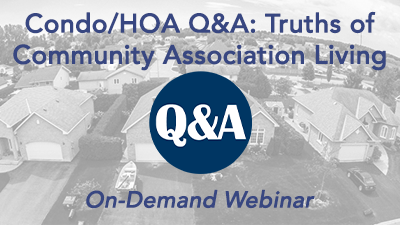 Condo HOA/Q&A: Truths of Community Association Living
Learn about the Truths of Maintenance-Free Association Living. Even though you live in a maintenance-free association, there are still responsibilities.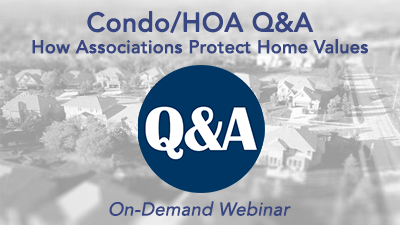 Condo/HOA Q&A: How Community Associations Protect Home Values
Your home is your greatest investment. Learn how condominium, townhome and homeowners' associations exist to protect that investment.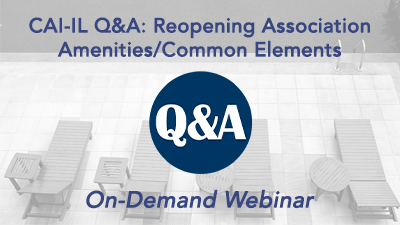 CAI-IL Q&A: Reopening Association Amenities-Common Elements
Watch our panel of experts as they answer some frequently asked questions about reopening amenities.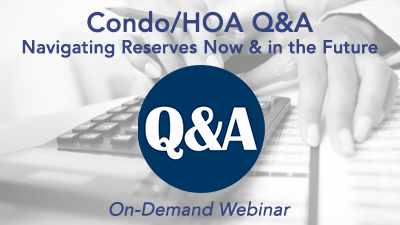 Condo/HOA Q&A: Navigating Reserves Now & In the Future
Learn about what to do with reserve balances and reserve studies in their condominium, townhome, and homeowners' associations in Illinois
Additional Resources for Board Members

CAI e-newsletter. Each monthly issue includes news, data, and calendar items for informed CAI members—and those who want to be.
CAI e-newsletter

The publishing division of CAI, offers the largest collection of books on association governance, management, and operations. Available to CAI members and nonmembers.


CAI's award-winning flagship magazine provides in-depth information and examples of how volunteers and professionals can improve their communities. Select content available to nonmembers.
| Access Date | Quiz Result | Score | Actions |
| --- | --- | --- | --- |
Homeowner Resources

Subscribe via RSS